Contact
Tel:+86-18353179896
Add:Jinan City, Shandong Province, China
Location:Home> News > Shuochao News > Shuochao CNC horizontal double spindle deep hole drilling machine, a leader in the machine tool industry
Shuochao CNC horizontal double spindle deep hole drilling machine, a leader in the machine tool industry
The old customer has ordered the horizontal double spindle deep hole drilling machine with the largest diameter in the domestic industry again, with a diameter of 8.5 meters and a tube sheet thickness of 1 meter. Now it has entered the field installation and debugging stage.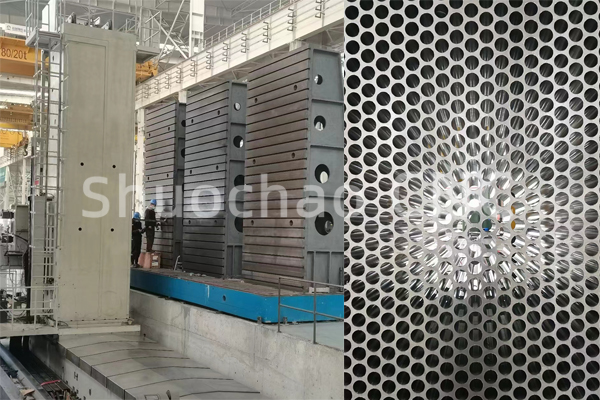 Shuochao CNC deep hole drilling machine is mainly used for processing the holes on the tube sheets of the shell and tube heat exchanger used in petroleum, chemical, pharmaceutical, thermal power station, nuclear power plant and other industries. The maximum diameter of the work pieces can be processed is 4000mm, the maximum drilling depth is 800mm, and the hole diameter accuracy reaches IT9-IT10.
The deep hole drilling machine has two spindles, which can work at the same time. The effect is nearly double that of a single spindle machine. The distance between two spindles can be adjusted to meet the requirements of different hole distances.
The three spindles X, Y and Z are guided by imported linear roller guides, which have high load-bearing capacity, good dynamic response, no clearance and high precision movement.
Equipped with automatic lubrication system, the guide rail, lead screw and other parts to be lubricated are regularly lubricated to the fullest extent, effectively ensuring the stable operation of the machine tool and improving the service life of each part.
FAGOR8055 numerical control system is adopted and equipped with electronic handwheel, which is convenient for operation and management. Using programming software to convert CAD drawings into CNC part programs, optimize drilling sequence, and greatly improve efficiency.