Contact
Tel:+86-18353179896
Add:Jinan City, Shandong Province, China
Location:Home> News > Shuochao News > Shuochao SWZ700/9 3D drilling machine for stereo garage is delivered to Suzhou, Jiangsu
Shuochao SWZ700/9 3D drilling machine for stereo garage is delivered to Suzhou, Jiangsu
Shuochao SWZ700/9 3D drilling machine for stereo garage is delivered to Suzhou, Jiangsu
During the National Day holiday, the SWZ700/9 3D drilling machine for stereo garage ordered by customers in Suzhou, Jiangsu, was loaded on the 3rd and sent to the user.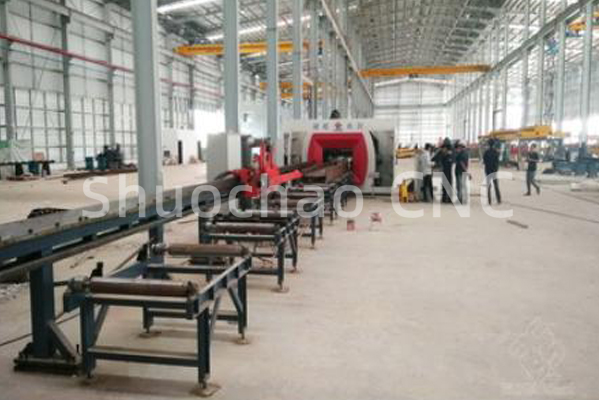 SWZ700/9 3D drilling machine adopts a fixed bed and movable workpiece structure. The 3D drilling machine with this structure is suitable for the processing of medium and small H-shaped steel or channel steel, which is convenient for continuous production and has a high degree of automation. This 3D drill for stereo garage has three drilling headstocks (each headstock has three spindles), which are respectively installed on three NC slides for drilling in the horizontal and vertical directions. The drilling spindle box can not only operate independently, but also complete the drilling operation at the same time. The spindle on each drilling spindle box is hydraulically self controlled. It does not need to manually set the effective length of the drill bit and the thickness of the workpiece to be drilled. It can automatically perform the fast forward – forward – fast backward conversion. The 3D drilling machine is controlled by PLC, with high precision, simple and convenient operation, and high processing efficiency.